What Features Should Be in a Laptop?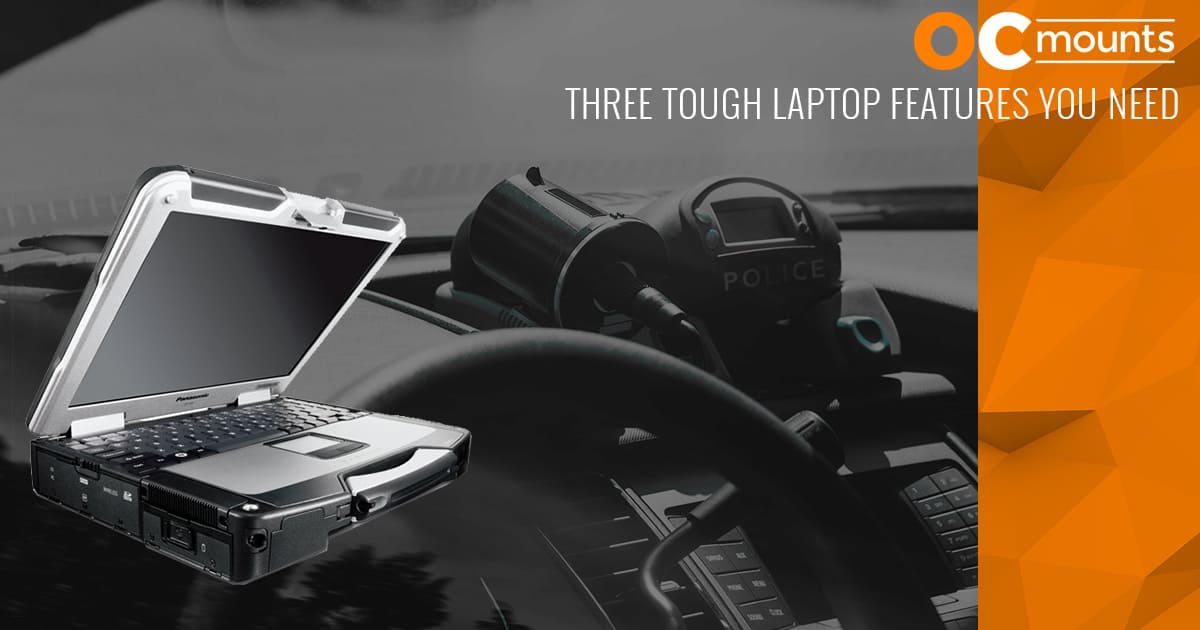 What features should be in a rugged laptop? With so many tough laptop brands out there, finding the computer that's perfect for your work might seem like an impossible task, especially if your work doesn't take place in a comfortable, climate-controlled office. Whether you're a first responder or you make your living working in conditions that are less-than-hospitable to electronics, a tough notebook computer is your only option for being able to work while you're in the field.
Do you need a drop-resistant laptop? A dust-proof laptop? One of the best ways to narrow your search when thinking about what features should be in a laptop is to determine what you need your device to do. If you focus on finding the following three features on any rugged laptops that you are looking at, you will find the computers you need to make your work as easy as possible.
Tip: Visit our Info Center to find out what kind of Toughbook is right for you or your organization.
At OC Rugged Laptops, we are a Microsoft-registered refurbisher that takes our work seriously. We know that there is no substitute for doing the best work, which is why we never skimp on refurbishing the computers and tablets we sell. Browse our online rugged laptop store today to find what you need at prices no one else can beat.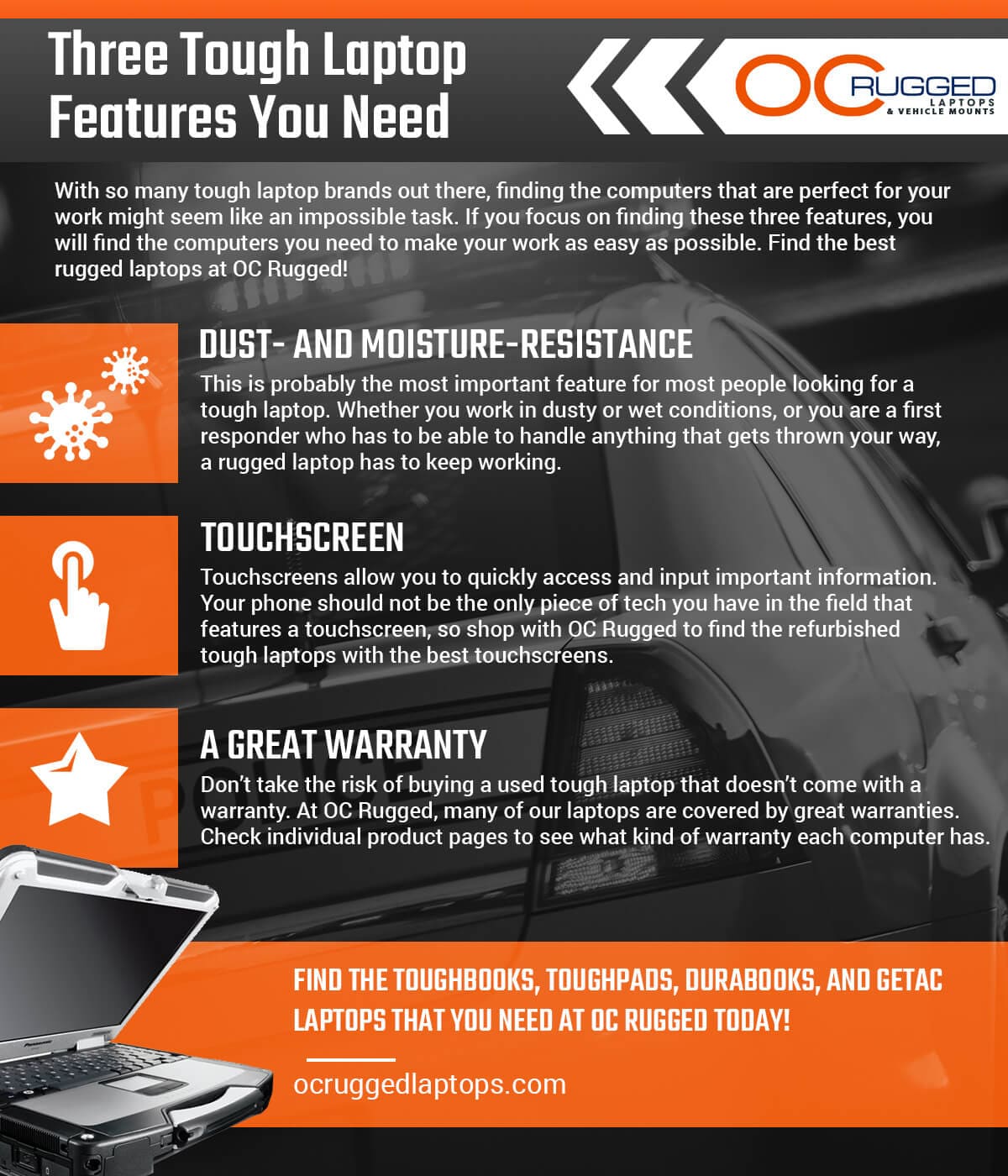 Waterproof and Dust-Proof Laptop
For most users and organizations, resistance to water and dust is probably the top of the list of what features should be in a laptop. Whether you work in extreme conditions or you're a first responder who has to be able to handle anything that gets thrown in your way, a rugged laptop has to keep working. The computers we carry at OC Rugged Laptops, like our bestselling Toughbook 31, were designed to keep out water and dust so that they can continue to function even in the worst possible conditions.
Water is an obvious threat, but many people don't think about dust. Yet it is dust, not water, that causes more hardware failures. You need a dust-proof laptop in harsh environments because dust can clog up vents, leading components to overheat, slow down, and even die. Conductive dust (such as dust containing water or microscopic metal shavings) can short-circuit components and ruin your computer in an instant.
When you are working, you shouldn't have to worry about whether or not your equipment can keep up. Shop waterproof and dust-proof laptops with OC Rugged Laptops and keep working knowing that your tough laptop will be there to help you get the job done.
Touchscreen
Here's something on the list of what features should be in a laptop many people might not think about at first. Touchscreens allow you to quickly access and input important information. The revolution in software design and usability that touchscreens have brought to life is almost too big to fully explain, but if you have ever used a touchscreen, you know just how strange the idea of going back to a device without one sounds. Your phone should not be the only piece of tech you have in the field that features a touchscreen, so shop with OC Rugged Laptops to find refurbished tough laptops with the best touchscreens.
A Great Warranty
What features should be in a laptop? A good warranty -- something that shows that we take our refurbishments seriously and are willing to put our money where our mouth is. Don't take the risk of buying a used tough laptop that doesn't come with backup. At OC Rugged Laptops, many of our laptops are covered by great warranties.
For a great, rugged, dust-proof laptop that resists humidity and extreme temperatures, withstands direct sunlight, and keeps spills and weather from getting to the electronics, you need a Panasonic Toughbook. Check out our individual product pages to see what kind of warranty each computer has.
Find the Toughbooks you need at OC Rugged Laptops today! You won't find a better supplier of tough, reliable laptops anywhere else. Please contact us if you have questions or need more information about what features should be in a laptop that's suited for your needs.