Police, fire, and EMS computers have a high bar to meet: These laptops for first responders have to work in some incredibly hazardous and difficult conditions. They have to be an asset, not a liability, in the most demanding situations. That's why it's vital to have the proper equipment when you are a police officer, firefighter, EMT, or another kind of first responder.
In today's ever-connected world, it is more important than ever to have access to computer systems no matter where a first responder may be or what situation you might be in. Being able to stay connected with others has helped to shorten response times, improve safety, and better coordinate relief efforts. And in order to handle the difficult conditions that first offenders find themselves in, it is necessary to have police, fire, and EMS computers that can stand up to moisture, dirt, and dust.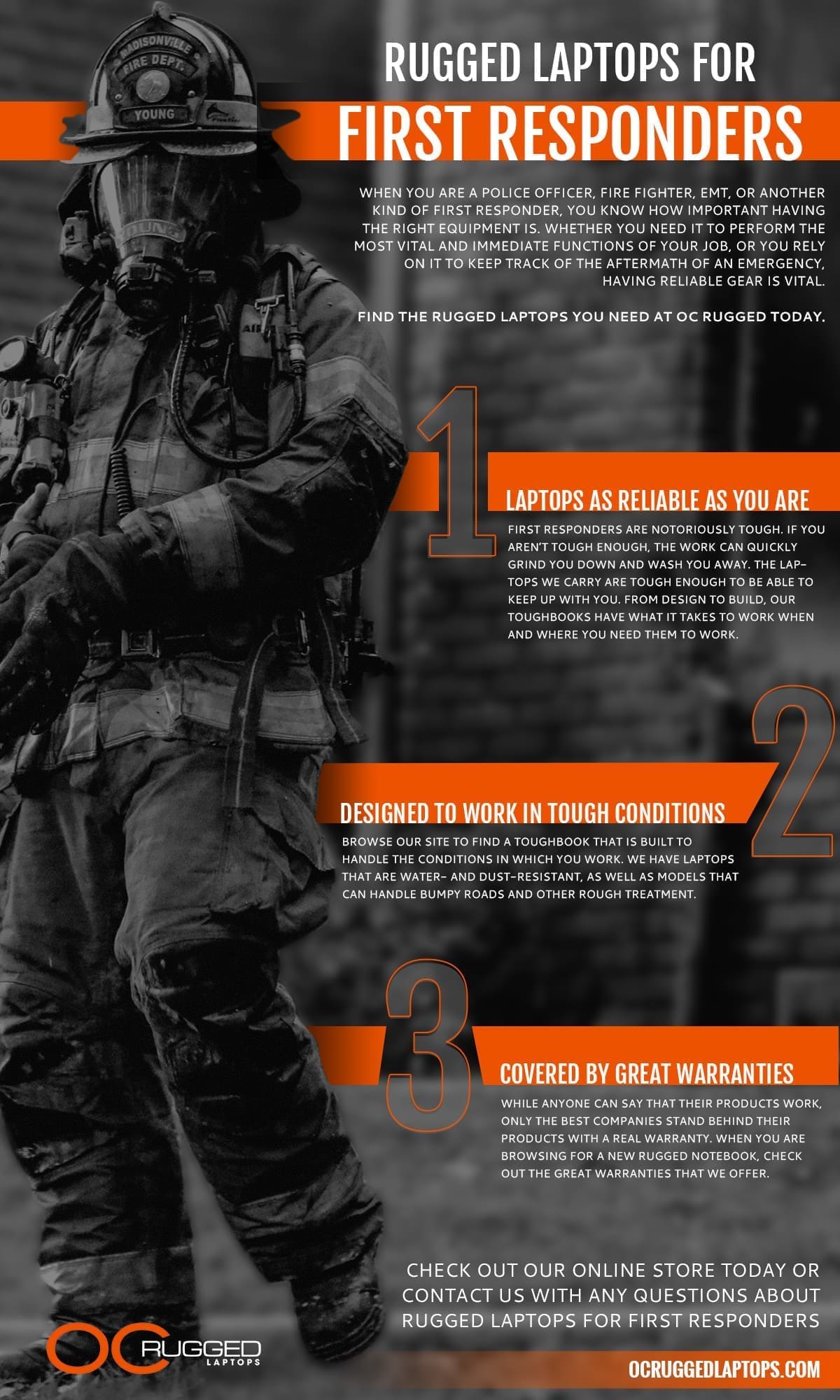 Laptops as Reliable as You Are
First responders are notoriously tough. If you aren't tough enough, the work can quickly grind you down and wash you away. Laptops for first responders have to be up to the same challenge. The police, fire, and EMS computers we carry are tough enough to be able to keep up with you. From design to build, our Toughbooks have what it takes to work when and where you need them to work.
That's why we only sell the best, most durable, and rugged brands, including Durabook and Panasonic Toughbooks. We know that there is no substitute for dependability.
The Quality You Need at a Price You Can Afford
At OC Rugged Laptops we proudly offer a wide range of rugged, refurbished Toughbook laptops for first responders that are up for any challenge, and make staying connected in the field as easy as it would be in the office. With our highly specialized customer service and customization options to meet your needs, you will be able to find the rugged laptops you need.
Because our Toughbooks are refurbished, the price is just about the best you'll find anywhere. And because we are a Microsoft registered refurbisher, you can rest assured these police, fire, and EMS computers are like-new and ready to put in a long life of honest hard work.
Designed to Work in Tough Conditions
Our Toughbooks are military-grade (MIL-STD-810), which means they are built to handle the tough conditions in which you work. These machines are durable, resilient, and water-and dust-resistant. For example, the Panasonic Toughbook 31 and 31 MAX are certified IP65, meaning they're highly resistant to that dust penetration and significant water exposure that can occur in the field.
Toughbooks are also great for handling bumpy roads and other jerking motions without risk of hardware damage. Pretty much all police, fire, and EMS computers need this level of resilience if they're going to last for the long term.
Superior Mounting Solutions
In addition, we carry some of the best vehicle mounting hardware available. A laptop for first responders is only as useful as the mount that holds it in place. So be sure to explore our options if you need mounting solutions for your new hardware.
Covered by Great Warranties
While anyone can say that their products work, only the best companies put their money where their mouth is by offering a real warranty. For most of our police, fire, and EMS computers, we include a one-year warranty automatically, with the option to add additional protection.
The need is clear and the value is there. Check out OC Rugged Laptops' online store today or contact us with any questions about rugged laptops for first responders. We work with agencies of all sizes to meet your particular needs. And if you have a quote from a competitor, we will happily match it or bump up the features.
Choose OC Rugged Laptops for your next police, fire, or EMS computer purchase: We proudly serve custom rugged laptops to the first responders who serve our communities so nobly.