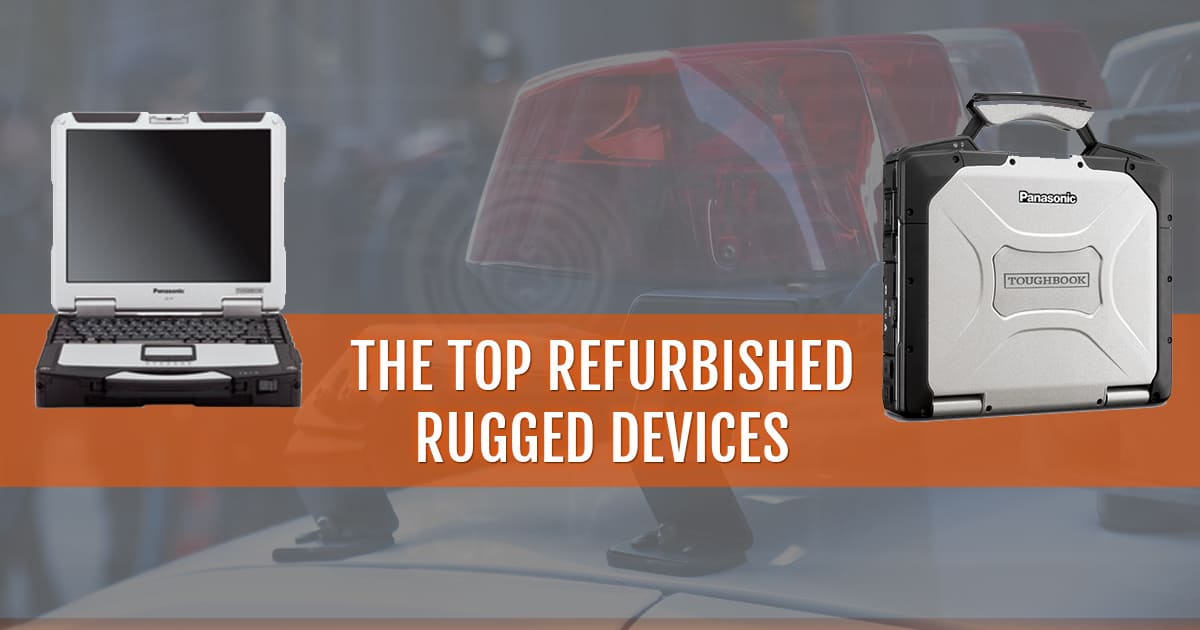 Rugged laptops are designed to provide maximum protection to first responders and military personnel while working in the field. Due to unforeseen weather, unforgiving terrain, and a number of other variables, rugged laptops need to be as tough as they are functional. For this reason, rugged laptops are often loaded with features to ensure the most in durability. These features can sometimes be costly to customers, which can make these laptops seem more like an investment than a purchase. However, there are several ways you can save money while buying one, such as choosing to purchase a refurbished rugged device. That's why, in today's blog, we will outline a few of the best refurbished rugged devices while highlighting some of the key features that they offer users.
At OC Rugged, we are dedicated to providing the most durable products at an affordable price. Our online store is filled with the latest devices that can all be customized to your personal preference. Not only do we offer affordable pricing on our laptops and tablets, we even sell the accessories and vehicle mounts you need to get the most out of your rugged device. To learn more about some of the best refurbished laptops currently available, continue reading more on the subject below.
Toughbook 31 MAX
Panasonic has been one of leading producers for some time, and their Toughbook 31 MAX is no exception to their outstanding line of products. Loaded with eight gigabytes of RAM and a solid state hard drive, the Toughbook 31 MAX offers blazing speeds and the most in responsiveness. In fact, the Toughbook 31 MAX can be powered on while taking you to its home screen in less that 15 seconds! Not only does the Toughbook 31 MAX feature the quickest CPU speeds, it also comes equipped with a 13-inch touchscreen that is perfect for making quick selections or entering data while out in the field.
Toughbook CF19
Another standout product from Panasonic, the Toughbook CF19 is a hybrid rugged laptop, as it can be converted into a tablet. With a simple swivel of the screen, th CF19 can turn into a fully functional tablet that is equipped with an incredibly responsive touch screen. Those using the Toughbook CF19 in an outdoor setting will love its sunlight readable screen, making unbearable glares from the sun a thing of the past. With a one-year warranty covering parts and labor, the Toughbook CF19 is a great choice for those working in construction or as first responders.
Toughbook 30 MK3
If you are looking for a dependable rugged laptop at the fraction of the cost of a standard rugged device, consider purchasing a Toughbook 30 MK3. Offering impressive characteristics such as its shock, vibration, water, and dust resistance, the Toughbook 30 MK3 is a versatile rugged device that was built to outlast the most extreme conditions. Toughbook 30 MK3 owners can use their device with confidence, as we offer a one-year replacement warranty at no additional cost to our customers. Make the transition to a Toughbook 30 MK3 by shopping OC Rugged's online store of refurbished products today.
Toughbook 19
Similar to Panasonic's CF19, the Toughbook 19 sports three gigabytes of RAM and an intuitive LCD touchscreen that can be converted into a tablet. We include a free stylus with every Toughbook 19 purchase so that you can make selections using the Toughbook 19's touchscreen. As a rugged device, the Toughbook 19 is temperature, vibration, particle, and liquid resistant, meaning that it is suited for outdoor use throughout every season. If you are searching for a versatile rugged device at an affordable price, the Toughbook 19 is a great choice for your needs.
Toughbook 29
The most affordable option from our line of refurbished laptops, the Panasonic Toughbook 29 is an exceptional rugged device for the everyday user seeking basic functionality. As a rugged laptop that has passed stringent MIL-STD-810F testing standards, the Toughbook 29 can withstand being dropped from heights of three feet or less. With universal vehicle mounting capabilities, and a price point that is nearly 90 percent less than the average retail price, the Toughbook 29 is as practical as it is affordable.
ToughPad G1
A standout from Panasonic's line of rugged laptops, the Panasonic ToughPad G1 is one of the most durable tablets to date. Many individuals who are concerned about a rugged device's mobility will choose a tablet as it is much lighter, more portable, and just as durable. The ToughPad G1 features an eight-hour battery life and four gigabytes of RAM so that you can experience blazing speeds throughout the entirety of your day. With Windows 7 or Windows 8 preinstalled on the ToughPad G1, you will be ready to use your new rugged tablet in just a matter of moments. If you are looking for a reliable device with an oversized multi-touch screen, consider purchasing your ToughPad G1 today.

The rugged devices listed above are just a few of the refurbished products that we offer in our online store. To view our full inventory of rugged laptops and tablets, simply visit our website today! We offer special pricing for high-volume orders, and donate a portion of our proceeds to Spike's K9 Fund, an organization that ensures K9s receive the proper equipment and medical attention they need to carry out their duties. Visit our website to learn more about our full lineup of rugged products and accessories!