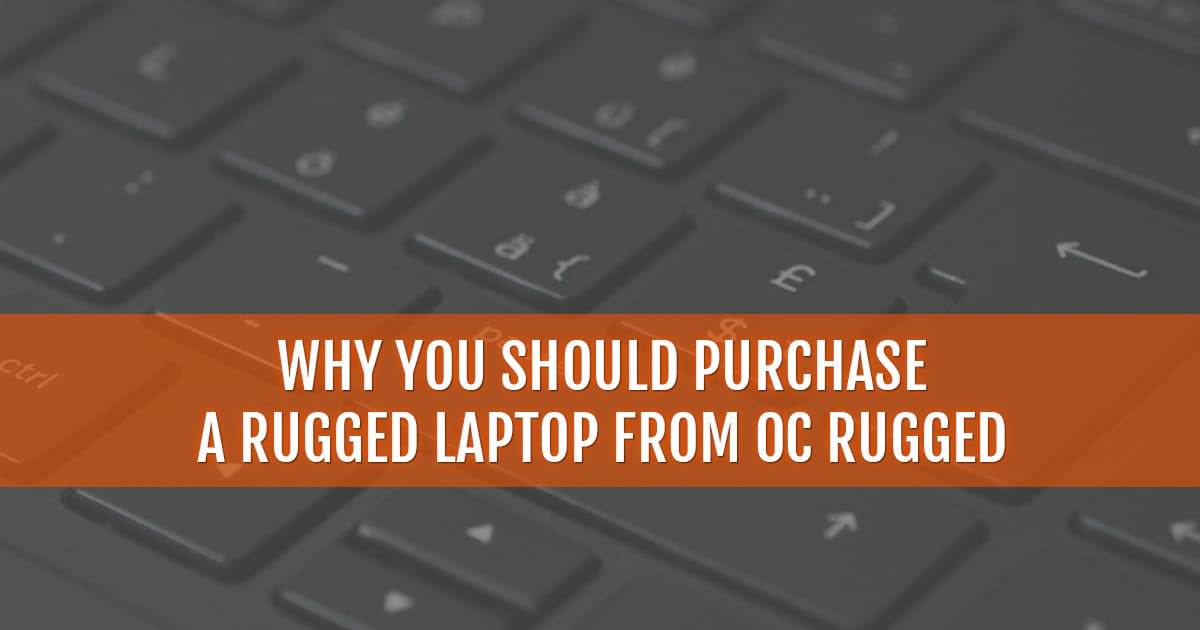 If you find yourself working in the field often, whether as a first responder or a construction contractor, you may rely on a rugged laptop to complete your day-to-day tasks while on the job. From rain and dust to the most extreme temperatures imaginable, rugged electronic devices are built to last through the most drastic conditions. There are a number of reasons why rugged laptops continue to be used by working professionals throughout a variety of industries, which we will be discussing more in-depth in today's article!
OC Rugged's online store carries the top rugged laptops and rugged electronic devices that are used by law enforcement, fire, first responders, and many other industries around the globe. We know that your job demands the most out of your equipment, which is why we only carry the top rugged electronic devices conveniently located on our online store. From Panasonic Toughbooks and Getac rugged laptops to Trimble rugged PDAs, our offering of rugged electronic devices is sure to please. If you would like to learn about a few of the reasons why you should consider purchasing your next rugged laptop from OC Rugged, consider reading more on the subject below.
Portability
There may be times where you are required to take your work computer on the go, however, this can be difficult if your laptop is not built to endure outside elements such as rain, sleet, snow, and hail. While conventional laptops are extremely portable, they lack the protection and peace of mind offered by rugged laptops. That's why the top working professionals choose OC Rugged for their rugged laptop needs. Not only are our laptops portable, they are incredibly sturdy and are manufactured by some of the top brands in the world. If you're looking for the latest and greatest rugged laptops currently available, you will be hard pressed to find a better selection and price point than on OC Rugged's online store.
Durability
One of the main reasons that people rely on rugged laptops is due to their unmatched level of durability. In fact, almost all rugged laptops offered on OC Rugged's online store pass military drop-test standards ensuring that your rugged electronic device is protected during even the most unexpected moments. This enhanced level of durability is especially important for those working in construction, as heavy machinery, dust particles, and drops and falls can cause equipment on construction sites to deteriorate at an expedited rate. With the leading rugged laptops from OC Rugged, however, you will never have to worry about your rugged electronic device failing preemptively again.
Latest Features
While many rugged laptop suppliers offer a limited selection of rugged electronic devices, we offer one of the widest selections of rugged laptops currently found online. We know that no two of our customers' needs are the same, which is why we supply a number of makes and models so that you can find the perfect product for your specific duties. You may even be looking for the latest features at an affordable price, in which case, our offering of refurbished rugged laptops were designed with you in mind. Many of our refurbished products possess blazing speeds and ample hard drive space, all at an affordable price.
Resistant to the Elements
Spilling water on a conventional laptop can pose immediate problems and can cause permanent structural damage to its internal components. Rugged laptops, however, are tested in every element imaginable, and have been shown to be extremely resistant to inclement weather. From liquid and humidity resistance to pressure and temperature resistance, it is safe to say that rugged laptops are designed to combat the fiercest weather. In fact, in our previous article on rugged laptops, we talked extensively about the strenuous testing that rugged laptops must endure before being approved for production.
Built To Last
We know that the cost of a new laptop can be daunting, especially when new technology surfaces year after year, essentially making your laptop obsolete. That's why our rugged laptops at OC Rugged are different. Many rugged laptops outlast conventional laptops simply because rugged electronic devices are built to last. Purchasing a rugged laptop should be seen as an investment, especially when considering how the cost of your purchase can be allocated over the laptop's total lifetime.
For A Good Cause
While some businesses choose to pocket the entirety of their profit, our team of dedicated professionals is committed to helping K9s around the world receive the care and attention they need during their time of service. Spike's K9 Fund was founded to help protect K9s who work in the field by sniffing out harmful explosives, narcotics, and more. This is just one of the ways that OC Rugged is able to impact the community of those who protect and serve our country.
These are just a few of the many reasons why you should consider purchasing a rugged electronic device from OC Rugged's online store. To learn more about any of our rugged laptop products, or if you have any questions or concerns regarding a future order, reach out to our friendly team of professionals today or browse our online offering of products. We offer competitive pricing on all of our products and even provide significant price breaks for high-volume orders, as well as special pricing for law enforcement. Contact us today to get started. We look forward to speaking with you!