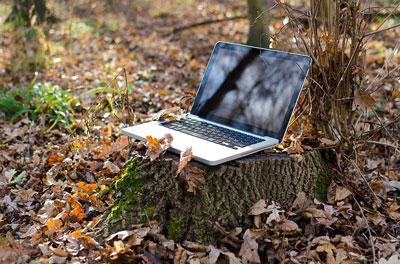 Traditional laptops aren't designed for outdoor use. The sunlight counteracts the device's backlighting and creates an annoying reflective glare that washes out your pixels and leaves you scrambling to see anything at all.
This is a serious problem if you use your device as an outdoor laptop for personal or professional reasons. Journalists, professional drivers, construction supervisors, claims adjusters, and emergency services personnel are just a few of the tradespeople who must constantly contend with the solar rays hindering their visibility.
If you need to reliably use your device outdoors, make sure you choose a sunlight-readable laptop that offers this feature.
Sunlight-Readable Laptops
Some laptop displays are treated with anti-glare technologies designed especially for outdoor use. For example, the Panasonic Toughbook CF-31 features optional anti-glare, anti-reflective screen treatments that allow you to see clearly even in direct sunlight. This not only improves visibility but also reduces strain on your eyes, which is a common problem among people who stare at screens for long periods of time.
In some cases, a screen may automatically detect the amount of light being absorbed and then adjust the level of backlighting accordingly (smartphones also use this type of technology). However, this type of screen is less efficient as it doesn't always allow for maximum visibility in instances of extreme sunlight. For best results in an outdoor laptop, you're going to want a transparent filter that fits over your screen and diffuses light so that you can see more clearly.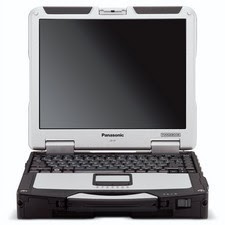 Other Tips for Reducing Glare
If glare persists despite your best efforts, there are other things you can do to cut down on the problem:
Use your laptop in shaded areas that block out sunlight
Sit facing the sun so that the direct light doesn't wash out your display
Adjust your laptop's display settings and increase the luminosity
Purchase a laptop hood that provides natural shading for your device
Finally, if you're working outdoors in extremely hot, cold, or damp environments, make sure that your laptop is built to withstand those environmental conditions. For best results, you'll want to stick with a military-grade Panasonic Toughbook.
Finally, though it's sometimes unavoidable, it's always a good idea to keep your direct sunlight exposure to a minimum when staring at a screen.
Order an Outdoor Laptop From OC Rugged
At OC Rugged, we carry refurbished Toughbooks that are completely customizable. In addition to customizing your hard drive, processor, and other features, you can opt for an anti-glare protective film that instantly transforms your standard laptop into a sunlight-readable outdoor laptop. We'll customize your Toughbook in-house and get it shipped out to you right away. Because we're a Microsoft-registered refurbisher, you can be sure that you're getting a dependable device that's in like-new condition.
OC Rugged is your #1 source for Panasonic Toughbooks, rugged outdoor laptops designed for aggressive use in all conditions. We offer a best-price guarantee, and each refurbished device is customized to order. Browse top Toughbooks, add an anti-glare screen, and get the perfect sunlight-readable laptop for all of life's adventures.