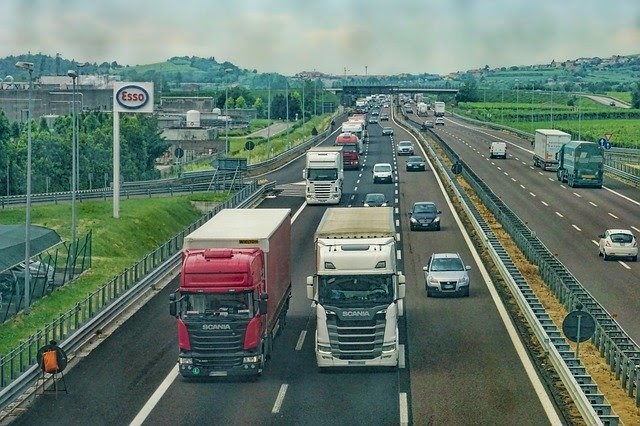 A Toughbook may be the most rugged piece of machinery you'll ever own. It's designed for the most intense conditions and can withstand rough vibrations, bad weather, and even direct moisture exposure. But if your lifestyle demands a rugged laptop, it's also going to demand a rugged mount for that laptop. The trick is choosing the right laptop mount for your vehicle, desk, or other surface.
1. For Commuter Vehicle Use—Choosing the Right Laptop Mount for Vehicles
If you're using your Toughbook in your car or truck, certain qualities are paramount. You'll need a mount that's adjustable to the center console and is suited to the dimensions of your vehicle's interior. Adjustable arms should allow you to pivot your laptop toward the driver's seat at a moment's notice.
Ideally, you'll want to go with a RAM laptop mount for your vehicle. RAM Mounts are designed using a patented ball-and-socket construction that absorbs shock and keeps your laptop perfectly stationary on the road. This is essential, as you don't want bumpy highway conditions constantly jostling your laptop's internal hardware.
If you can't find a laptop mount for your vehicle specifically, you can use a RAM universal model. For example, the RAM-VBD-101-SW1 is a sturdy drill-down laptop mount that works in virtually any vehicle. It's easy to install (just drill down the frame and adjust your components to your liking), and it easily swivels.
If you're not keen on drilling the laptop mount into your vehicle floor, the manufacturer also makes no-drill options that connect to your existing seat hardware. Regardless of which type of vehicle mount hardware you choose, your best bet is to always stick with RAM Mounts.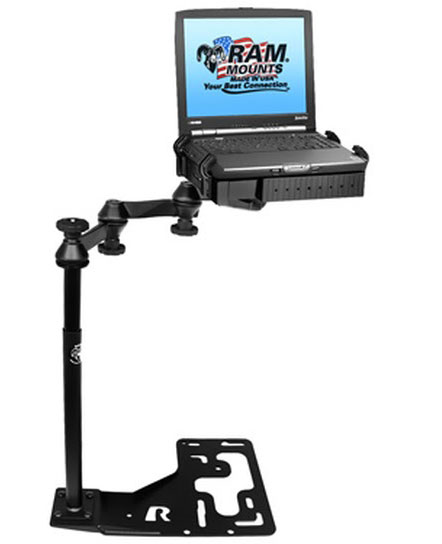 2. For Commercial Vehicle Use—Choose a Tailor-Made Laptop Mount for Your Vehicle
If you're installing a Toughbook in your 18-wheeler, fire engine, or other commercial vehicle, it's best to avoid the universal mounts when possible. Laptops undergo considerable stress in large, commercial vehicles, so it's best to look for a mount that was custom-designed for your particular vehicle or vehicle type.
For example, if you drive a commercial Freightliner truck or Mack truck, you should stick with a model that's designed for your vehicle's configuration, like the RAM-VB-168-SW1.
3. For Office Use—Choosing the Right Laptop Mount for Your Desk
If you work in normal office conditions, you probably won't need a laptop mount for your desk. However, certain office environments do necessitate an added level of protection and flexibility.
For example, if you manage an auto shop, you might want a secure, swiveling laptop mount at the customer service desk. This will allow the laptop to better endure the unpredictable shop conditions, and you'll have an easier time maneuvering the laptop so that customers can view pertinent information on the screen.
You probably don't want to drill holes into the floor of your office (though that's certainly an option), so your best bet is to find a laptop mount that connects to a desk. If you need to transport the laptop around the facility, you'll want a rolling desk that can accommodate a Toughbook mount. To refer back to our auto shop example, a rolling desk or cart would give you the ability to accommodate customers in the waiting area and also head back to the shop to perform diagnostics.
Make sure to choose a flexible laptop mount that's lightweight, adjustable, compact, and desk-friendly.
4. For Home Use—Go With a Docking Station
If you're using the Toughbook in your home office and would benefit from a mounting solution, you might go with a cradle-only docking station made for desks. These cradles are designed with easy mounting brackets and latches to secure your Toughbook in place.
If stability isn't a concern but you're just looking to achieve flexibility for your home work environment, you might skip the traditional Toughbook mount and instead opt for an adjustable sit-stand desk. In most cases, though, you shouldn't need a laptop mount for your desk at home.
5. For Outdoor Use—Consider an External Power Source
If you're taking your Toughbook outdoors, such as for photography projects or construction management, you probably won't need a mount in the traditional sense. However, you might need an extra power source to keep your battery going. A device like the RAM USB Tough-Hub (RAM-234-HUB1U) is ideal. It includes 6 ports and threaded power so you can sit in your vehicle and plug-in whenever you need a quick charge on the go. Not only is it ideal for outdoor use, but it's a great solution for any Toughbook owner who spends long periods away from a reliable power source.
No matter what type of mounting solution and accessories you choose, make sure to stick with RAM components. You won't find more reliable parts or equipment for your Toughbook.