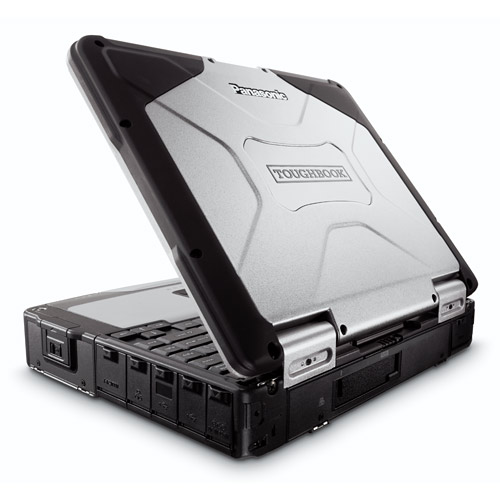 Panasonic has dropped the price of its awarding-winning Toughbook 31. This toughbook price is sure to beat out all of the competition! The Toughbook 31 gives you one of the best touchscreen laptop deals on the market. Still sporting the 2nd generation Intel Core i3-2310M processor and the same amazing MIL-STD 810G ruggedness, the Toughbook 31 has become the easiest decision you will make. Take home your very own rugged laptop today!
The 6 foot drop test for shock and vibration are still required for this workhorse computer. The rain, sand, and dust protection is still part of the Toughbook 31. The IP65 rating for weather is also part of the Toughbook 31. Nothing but the price has changed for the Toughbook 31. Here is the standard configuration through OC Rugged Laptops:
| | |
| --- | --- |
| LCD Size: | 13.1" XGA Touchscreen LED (1100 NIT) |
| Processor Speed: | 2.1GHz Intel Core i3-2310M |
| RAM: | 2GB SDRAM DDRII |
| Hard Drive Size: | 320GB, 5400RPM - Shock Mounted |
| Wireless: | 802.11 a/b/g/n, Bluetooth |
| Media Drive: | Optional - CDRW/DVDRW |
| Battery: | 7Hr. Li-Ion Smart w/AC Adapter |
| Operating System: | Windows 7 Professional |
| Warranty: | 3 Limited Warranty, Parts & Labor |

A more robust Intel Core i5-2520M processor is also available, along with a slew of other options such as a larger hard drive, more RAM, a backlit emissive keyboard, and protection plus warranties stretched out to 5 Years. A favorite amongst public safety, utility companies, and auto garages, the newly priced Toughbook 31 is shipping today. Order online or call toll free at 1-866-511-6113.
Configure your new Panasonic Toughbook 31 today. Toughbook 31 Page