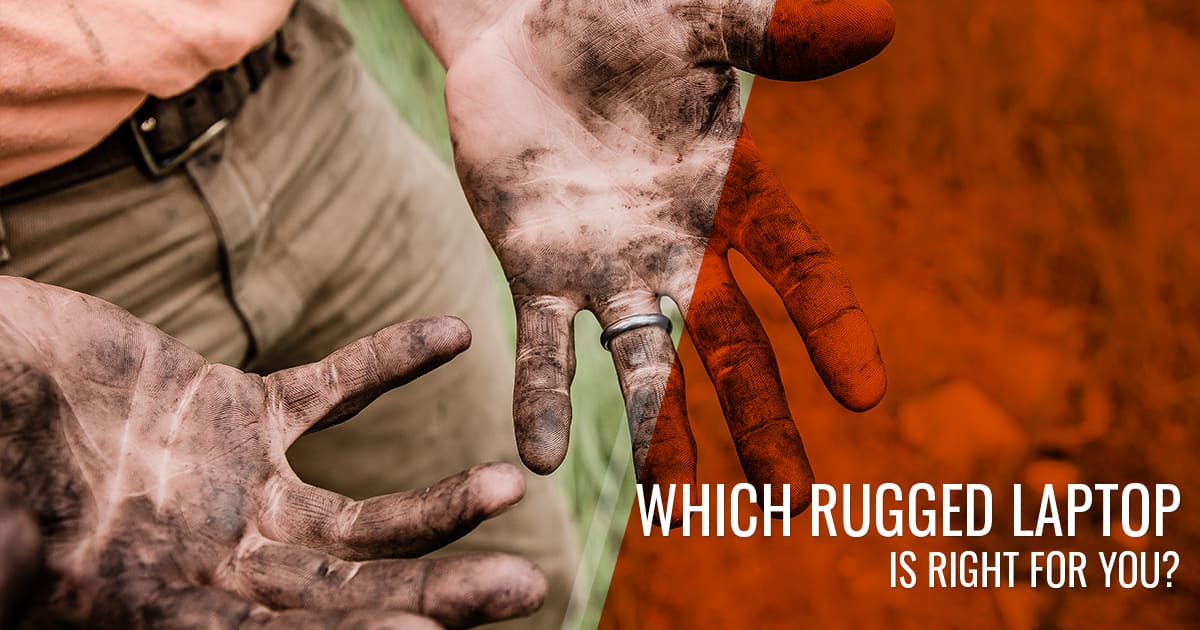 If you have never owned a rugged electronic device, you may not know which kind is right for your day-to-day needs. With varying industries comes various demands, which can make selecting your rugged laptop more difficult than it needs to be. Making a hasty decision could leave you with a rugged electronic device that lacks the proper features that you need to make your daily operations a breeze. No matter what your needs may be, in today's article on rugged electronic devices, we will be outlining some of the many different features that set our products apart from one another, so that you can be confident when it comes time to invest in your rugged laptop of choice.
At OC Rugged, we are the leading online store that offers a wide selection of rugged laptops, rugged tablets, rugged PDAs, and many other accessories. We know that no two company's needs are alike, which is why we are always available to answer any questions or concerns that you might have about our products. With free shipping on all orders placed, and outstanding warranties on nearly all of our products, we are confident that we offer the most in value to our customers. Not to mention, we frequently work with law enforcement agencies, corporations, military, and educational facilities so that you can secure the best price for your rugged electronic device needs. Best of all, if you have a quote from another online supplier, we always do our best to provide competitive bids on all of our products. To learn more about how you can select the best rugged electronic device for your needs, consider reading more on the topic below.
Device Speed
If you are searching for a rugged laptop that offers the most in speed, then you may want to consider investing in a rugged electronic device that has ample amounts of RAM and a solid CPU. These two features often determine how quickly a rugged laptop responds to everyday use, and will prove to be helpful if your job requires a device that is as quick as it is durable. Better yet, to get the most out of your laptop's boot-up speed, a solid-state drive will help go the extra mile, as these hard drives involve no moving parts when compared to a traditional hard drive. The end result is a blazing-fast device that will respond to your needs on a moment's notice.
Durability
While some rugged laptops come in semi-rugged varieties, other rugged electronic devices are designed to hold up against the most extreme elements. For this reason, if you are searching for the most in durability, then consider investing in a Panasonic Toughbook! These rugged electronic devices are resistant to vibration, extreme temperatures, pressure, particulates and debris, humidity and liquid, and drops from significant heights. Not to mention, the Panasonic Toughbook is as portable as it is durable, thanks to its handy carrying handle that makes transportation easier than ever.
New or Refurbished?
If you are more concerned about the price of your rugged electronic device, then you may be considering purchasing a refurbished rugged laptop instead of a new one. All refurbished rugged laptops sold on our online store are backed by a manufacturer's recertification, and some even include two-year warranties! Since rugged laptops tend to last much longer than traditional laptops before experiencing technical issues, many individuals will purchase a refurbished device, as these can generally be had for a fraction of the price. And, to make the deal even sweeter, all of our customers can use the code, "FLASH25" on our online store to save $25 off their next refurbished rugged laptop purchase. We do all of this so that you, the customer, can receive the most in value!
These are just a few things to consider when deciding what kind of rugged electronic device is right for your needs. If you still have additional questions or concerns, or would like to learn more about any of the products sold on our online store, then don't hesitate to get in touch with the professionals at OC Rugged today. We have helped countless individuals find the rugged laptop of their dreams, and we can't wait to help you as well!