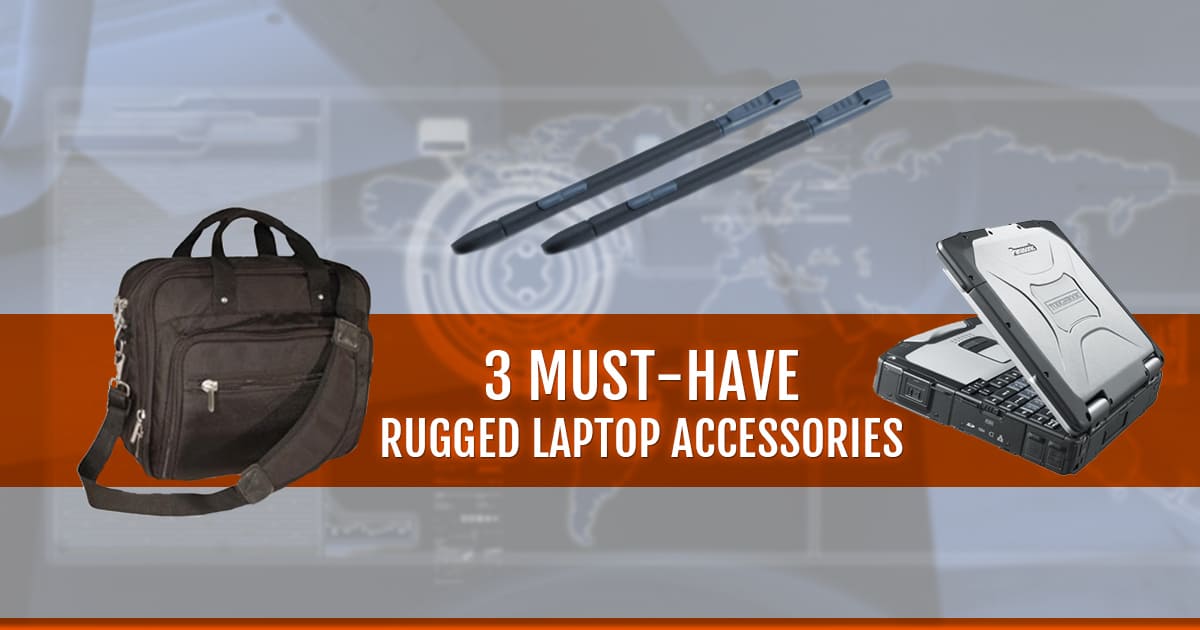 Rugged laptops have a wide variety of uses which suit many different industries such as military, law enforcement, construction, first responders, and many more. While a standard rugged laptop or tablet may be sufficient for most individuals, there may come a time where rugged laptop accessories could be very beneficial for streamlining your workflow. Luckily, at OC Rugged, we carry all the accessories you will need to ensure that you are fully equipped for anything that your job may throw at you.
Throughout this article, we will talk about the many rugged accessories available on our online store, which are designed to improve your efficiency while on the job. If you have any questions or concerns, or would like to learn more about any of our new or refurbished rugged laptops or tablets, contact our knowledgeable and friendly staff today! We have a longstanding reputation for supplying various industries with high quality rugged devices, and work with many different companies to find a price point that is suitable for their needs. To learn more about the many rugged accessories available on our online store, continue reading below.
Stylus Replacement Packs
If your rugged laptop or tablet included a handy stylus for making quick selections on touchscreens, chances are that you may end up losing your stylus at some point during continued use while on the job. This is especially true for careers such as first responders or law enforcement, when individuals are given the stylus to provide their personal information. It can often be difficult to make selections on touchscreens using your fingers, especially if your fingers are dirty or wet, as your rugged device may not register selections made by hand in these instances. For this reason, a stylus is useful for writing and making selections quickly and efficiently. Our stylus replacements come in packs of two, so that if you were ever to lose a stylus again, or require more than one stylus for multiple units, you will have the proper equipment at your disposal.
Toughbook X-Strap
Does your job require that you frequently enter data on your rugged laptop? If so, you may notice how quickly your arm can fatigue while standing and holding your device. Toughbook convertible laptops were made for one-handed use, and can be used to their full advantage with the addition of an x-strap. Our Toughbook hand strap allows users to easily hold onto their Toughbook without worrying about dropping their device, while also helping individuals maintain a stable and stationary grip on their rugged laptop. If you find yourself constantly holding onto your Toughbook for data entry or note taking, the Toughbook x-strap was designed to make your job easier.
Toughbook Carrying Case
If you find yourself taking your rugged laptop to business meetings or conferences where you have to present data, you may have experienced that rugged laptops are fairly heavier than standard laptops. Carrying rugged devices to and from different locations can start to become an inconvenience quickly, which is why we carry Toughbook carrying cases on our online store. These carrying cases come with a sturdy shoulder strap, which allow you to transport your rugged laptop easily without worry of damage or muscle fatigue. The carrying case also acts as a protective barrier between your rugged device and the outside world, ensuring that your Toughbook is completely protected from imposing elements. With several additional pockets, the Toughbook carrying case can efficiently store your work documents, important files, notebooks, and more with ease.
These are just three useful rugged laptop accessories that can be found on our online store. We carry several other products designed to improve your rugged laptop such as additional hard drives, batteries, chargers, and more. If you have any questions or concerns, or would simply like to receive a competitive bid for your next high-volume order, contact our staff of experts at OC Rugged today! We provide rugged electronic devices to both the public and private sector, ensuring that we have the perfect product for your needs. Not only is our customer service unmatched by competitors, all our rugged laptops come with warranties designed to provide you with the peace of mind which you deserve. Contact us today to get started!