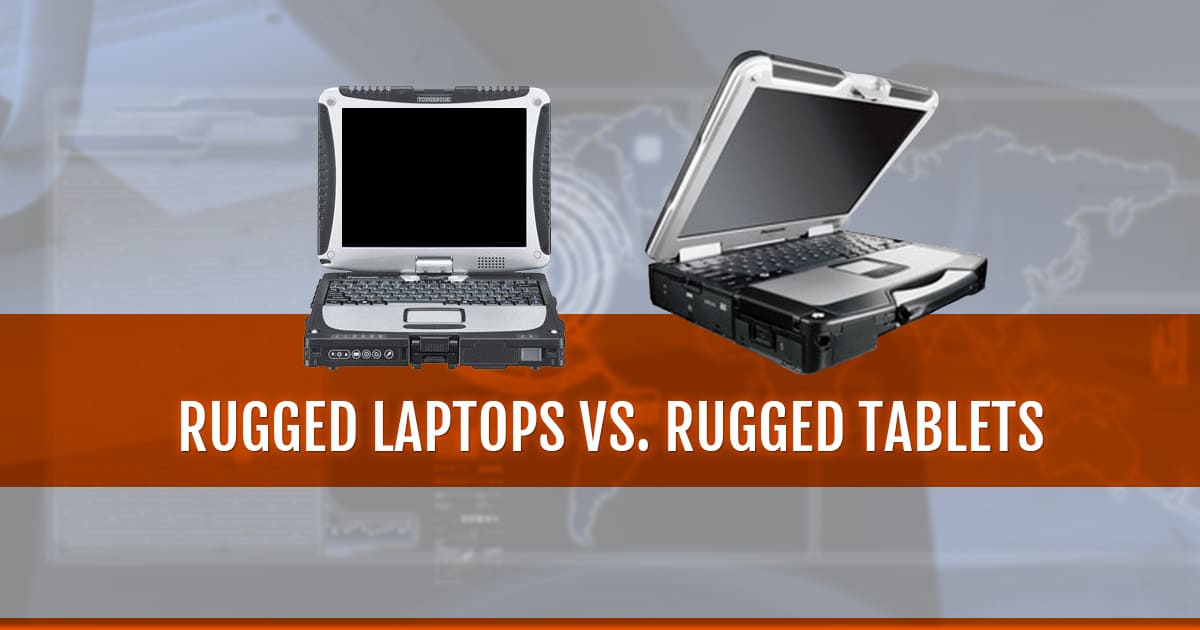 Rugged electronic devices are built to withstand the most extreme conditions. As such, they usually possess bulkier features than traditional laptops. While this may not be an issue for law enforcement officers who often keep their rugged laptops mounted in their car, it may be problematic for military personnel who are frequently on the move. For this reason, rugged tablets were created to provide similar functions with added portability. Today, we will be discussing the benefits of both rugged laptops and tablets, while highlighting the various industries that could benefit from each type of rugged electronic device.
If you are looking for a reputable online rugged laptop and tablet retailer that provides peace of mind warranties and top-notch customer service, look no further than OC Rugged. We've provided affordable rugged electronic devices for a wide variety of industries like corporate, educational, military, law enforcement, first responders, and many more. If you are interested in receiving a competitively pricing bid for a high-volume order, or would like to learn more about any of our products, contact our knowledgeable professionals today. Find which type of rugged electronic device is right for you by reading more below.
Rugged Laptops
Looking for the most protective option that rugged electronic devices have to offer? Rugged laptops are a great choice for individuals that work behind a computer while on the job. Professionals who find themselves entering important data from their car will love that a rugged laptop possesses the standard features of a conventional laptop, but with a far greater level of durability. As rugged laptops are shock and drop resistant, water resistant, and temperature resistant, they will be able to run smoothly under the most severe conditions.
Rugged Laptop Features
Night display mode
MIL STD-810G certified
All-weather sealing
Particle, liquid, temperature, and drop resistant
Customizable components
Rugged laptops are perfect for law enforcement officers, EMTs, firefighters, construction contractors, and many other types of careers that require you to remain in a vehicle for long periods of time. Many rugged laptops are encased by magnesium alloy, meaning that your laptop can withstand being dropped from surfaces while still being protected from the rain, snow, dust, and more. When compared to rugged tablets, rugged laptops offer many more ports which will allow you to attach additional items to your laptop. l If you are looking for a versatile laptop with exceptional durability and many unique features, rugged laptops are perfect for your needs while on the job.
Rugged Tablets
While rugged laptops may be great for individuals who often work from their vehicle, they may not be the best for those who want both a lightweight and portable rugged device. Since rugged laptops can weigh anywhere from eight to nine pounds, some may find the additional weight detrimental to their day-to-day duties. For this reason, rugged tablets were created to give individuals the durability many seek with the same core functions of a laptop. Military personnel will find that rugged tablets are capable of completing the same tasks as a rugged laptop, but weigh a fraction of what rugged laptops weigh. For example, the Panasonic Toughpad G1 weighs just two pounds with its normal battery, and only three pounds with an extended life battery.
Rugged Tablet Features
Multi-touch capabilities
MIL STD-810G certified
All-weather sealing
Particle, liquid, temperature, and drop resistant
Daylight-readable display
Rugged tablets are also great devices for individuals that work in construction and view numerous floor plans or other important documents throughout the day. The portability that rugged tablets provide are just one of the many benefits that you may find useful if your job requires you to be constantly on the go.
As rugged laptops and tablets both offer different features and various functions, it is best to conduct extensive research on what your job requires from a rugged electronic device before making your purchasing decision. If you are too quick to buy a rugged laptop or tablet, you may be paying far more for additional features which you may never fully use. This is why OC Rugged's staff of helpful professionals are here to assist you with any questions or concerns that you may have. To learn more about any of our products or accessories, or to receive your competitive pricing bid, contact us today!