If you're trying to decide on the best tough laptop for your needs, it helps to understand what makes each model unique. Two of the most popular Panasonic models are the Toughbook CF-19 and the Toughbook CF-31, both of which are fully rugged and meet military standards of toughness. Each one of these Toughbooks is fully customizable and includes a touchscreen and a 160-GB shock-mounted, quick-release hard drive. But that's where the similarities end.
Before you can determine which model is best for your needs, you need to compare the Toughbook 31 and Toughbook 19 specs side by side. Explore the infographic below and then read on to discover which of these two Toughbook is right for your needs.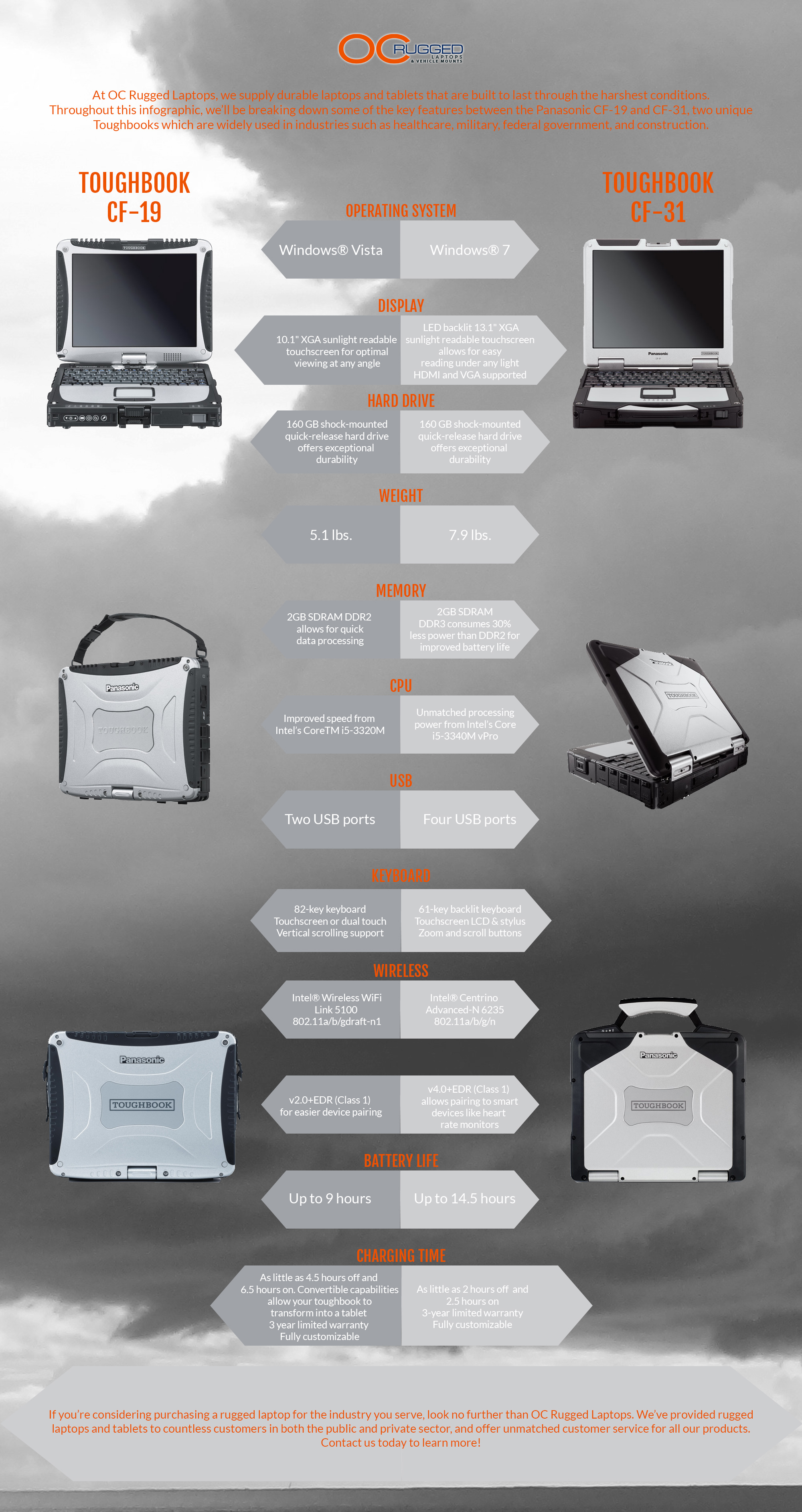 Toughbook 19 Specs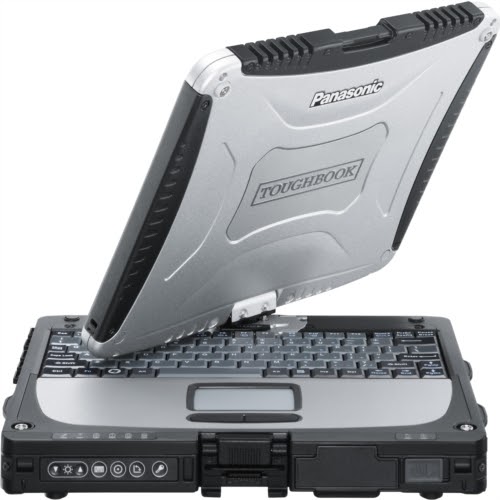 The Toughbook CF-19 is an older but still formidable laptop that users love for its rotatable XGA touchscreen. If you need to share your screen with customers across a desk (such as in an auto shop environment), you can easily swivel your screen as needed. You can even remove the screen and use it as a tablet.
The standard setup includes the Windows Vista operating system. While this is an older OS, it's often favored by businesses running software that isn't compatible with newer systems. For example, if you work in lean manufacturing and require Vista to run your proprietary kanban software, the CF-19 is an ideal choice. If, however, you prefer a newer OS, the CF-19 can be customized with Windows 7 or 10 Pro.
At just 5.1 pounds, the CF-19 is the best tough laptop for those who need to carry their device long distances without a lot of hassle. That's part of the reason why these devices are commonly used by construction and public utility professionals.
The other Toughbook 19 specs are impressive as well. The CF-19 comes with a full 2GB of DDRII SDRAM for rapid data processing and a powerful CoreTM i5-3320M processor. The battery can last up to nine hours on a single charge, so you can make it through an entire workday even if there are no electrical outlets nearby.
Best of all, this device features military-grade construction and a water-resistant build. It's an excellent choice for professional drivers, warehouse and manufacturing personnel, and insurance claims adjusters.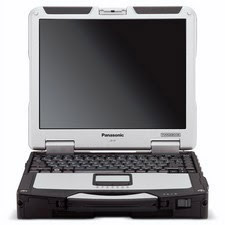 Toughbook 31 Specs
With its v4.0+EDR compatibility, the Toughbook CF-31 can easily be paired with lifesaving smart devices like heart rate monitors. That's just one of many reasons why this device is one of the most popular Toughbooks among emergency services personnel.
In addition, the device runs Windows 7 or can easily be upgraded to Windows 10. So if you need to run the latest secure web browsers, CAD software, or video conferencing platforms, compatibility is never a problem.
This device includes an LED Backlit 3.1" XGA display, which is suitable for both indoor and outdoor use in all light conditions. Even the keyboard is backlit, so if you're working outdoors at night, you can always see what you're doing.
In contrast to Toughbook 19 specs, the 31 weighs a bit more at 7.9 pounds, but it's still lightweight enough for easy transport. And while the CF-19 only contains two USB ports, this one contains four. So if you need to attach a lot of peripherals, this is the model to go with.
The device has a CoreTM i5-3340M vPro processor, designed for the most demanding use. The 2GB of DDRIII SDRAM ensures 30% less power consumption than the CF-19, and the battery can often run as long as 14.5 hours on a single charge. So if you work out in the field for long periods of time, the extra-long battery life may be to your advantage.
With its advantages over Toughbook 19 specs, the Toughbook 31 is our #1 recommendation for the most demanding jobs: healthcare, law enforcement, oil, and gas. When you need maximum protection and unparalleled processing power, the CF-31 will never steer you wrong.
Which Is Right for Me?
If you need more information about the difference between Toughbook 31 and Toughbook 19 specs, be sure to check out our helpful info center. Then decide which of these refurbished Toughbooks is the best tough laptop for you.
At OC Rugged, we offer a low-price guarantee, and every Toughbook comes with a warranty for your protection. Order today, and experience the difference.