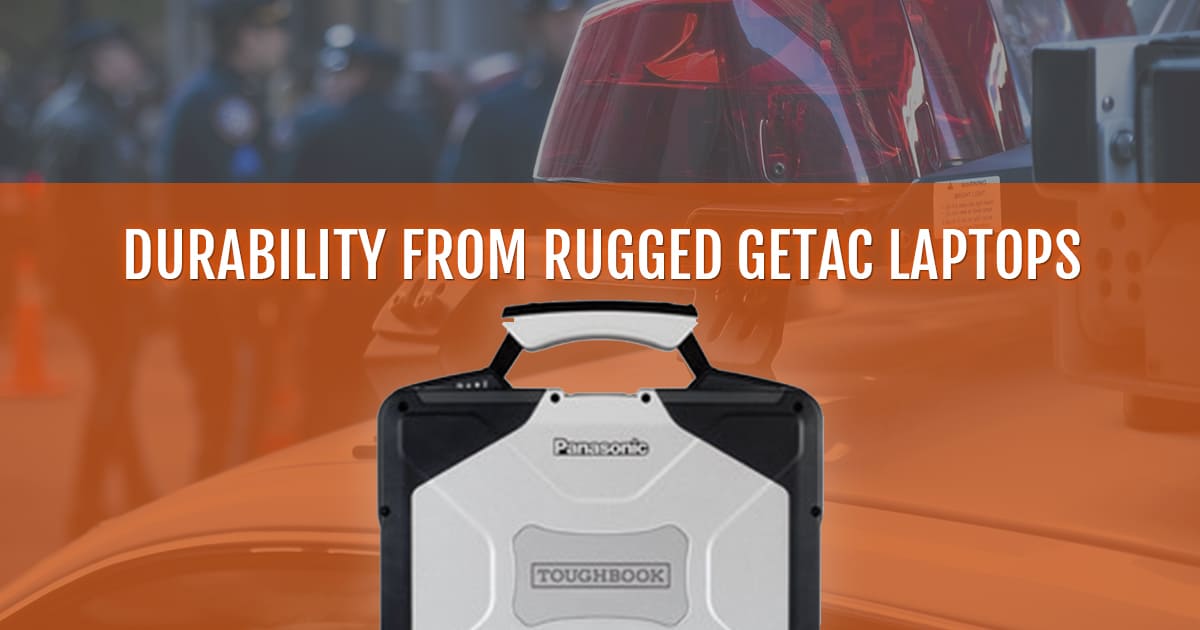 When it comes time for you to purchase your first rugged laptop, you may be considering which type of rugged device will be able to meet your needs. From Panasonic Toughbooks to rugged Trimble PDAs, there are a variety of rugged devices with a wide range of intended uses. However, if you are looking for the most in durability, resistance to the elements, and dependability, you will be hard pressed to find a rugged laptop that can outmatch Getac's rugged electronic devices. That's why, in today's article, we will be talking about some of Getac's many leading features that makes it one of the most durable and intuitive rugged laptop to date.
OC Rugged's online store is filled with the top rugged laptops, vehicle mounts, and accessories available for purchase at an incredibly affordable price. With a number of rugged laptop options, including a variety of refurbished rugged devices, OC Rugged is able to offer the most in customer service with the least amount of hassle. If you are interested in reading more about why Getac continues to remain as one of the top rugged laptops available, continue reading more on the subject below.
Leading Customer Satisfaction
As an industry leader that offers the most durable rugged laptops currently known, Getac's stellar customer service and satisfaction is unmatched by their competitors. In fact, in a survey conducted in 2014 that measured customer satisfaction among rugged laptop owners, it was found that Getac outmatched two of their major competitors found in the rugged laptop industry, making Getac the highest rated rugged laptop for customer satisfaction.
Incredible Warranty
When you decide to invest in a rugged laptop, you want to be sure that you are receiving a product that is built to last. Working outdoors can introduce harmful substances to your laptop such as moisture, dust, debris, and other particulates, which is why you would want the most in durability if you find yourself working in the field often. The engineers at Getac have perfected their rugged laptop design, which has allowed them to offer a five-year, bumper to bumper warranty on every Getac laptop produced. With around the clock tech support, and over 27 years of producing the highest-rated rugged laptops currently available, you can be sure that Getac is synonymous with quality.
Built To Withstand the Elements
While most rugged laptops are built to be water and moisture resistant, shock and drop resistant, and dust resistant, many are not able to replicate a resistance to extreme temperatures like Getac. Thanks to an intuitive design and the highest quality parts used at every turn, the Getac B300 was built to function flawlessly in temperatures as low as -20 degrees Fahrenheit. This makes Getac a suitable choice for individuals working in all climates, as its extremely tough outer shell and impressive battery life allow users to operate their Getac without interruption for more than 15 hours.
Options For Every Occasion
While Getac is most notorious for its B300 rugged laptop, they also make a number of semi-rugged laptops that are more suitable for those who aren't looking for the most in rugged protection. In fact, the Getac S400 is built to be lighter and more portable when compared to the fully rugged B300. So whether you are looking for a rugged device that is designed to take a beating, or a semi-rugged laptop that offers much more protection than a traditional laptop, Getac has you covered. The Getac S400 is available on OC Rugged's online store, where you can further customize your desired hard drive size, power options, and so much more.

While Getac is an exceptional manufacturer of rugged laptop devices, there are a number of high-quality rugged devices located on our online store. With free shipping on every order placed, and a staff of friendly professionals waiting to help you at every turn, we know that you will be more than pleased while working with OC Rugged; the top online supplier of rugged laptops and accessories for professionals working in law enforcement, fire, and first responders around the world. If you have any questions or concerns, or would like to learn more about any of our high quality products, simply contact our team today to get started. We look forward to speaking with you!