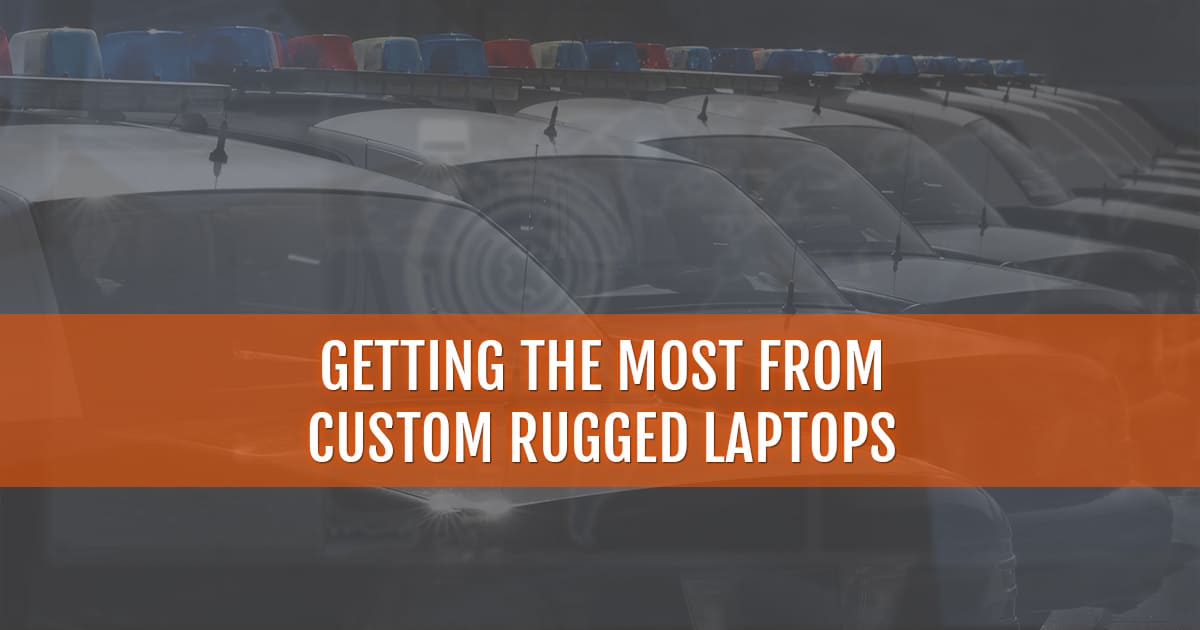 While new laptops are chock full of intuitive features and extra storage space, they may not have every feature you are looking for depending on the day-to-day needs of your job. For example, a normal keyboard would not be sufficient for someone who works long night shifts. In fact, a backlit keyboard would be much more beneficial for those who find themselves working in the dark. This is just one of the many custom options that rugged laptops offer users, making them a fully customizable rugged device that is capable of taking on any task imaginable. During this post we will discuss why you should consider customizing your rugged laptop if your job requires you to complete highly specialized tasks, while also listing some of the most useful customization options we offer our customers.
OC Rugged is the top online store for rugged laptops, rugged tablets, and other rugged electronic devices used by a wide variety of individuals in niche industries. As the leading provider of rugged laptops, we know that customers are searching for the most reliable piece of equipment that will function properly even when tested in the most extreme conditions. We offer everything you would want from a rugged laptop, all at an affordable price that you will love. To learn about a few of the custom options we offer our customers, read more below.
Processor Customization
If your job requires your rugged laptop to be as fast as it is durable, you should consider researching how a processor can help improve the overall speed of your computer. Computer processors are available in different varieties such as i3, i5, i7, and even i9. The processor is responsible for efficiently running programs while computing large portions of data, making it a vital computer part where speed is concerned. You will most likely not need an i9 processor, and for good reason, as they can cost upwards of $1000 by themselves. This is why you should first consider what your job demands from your rugged laptop, so that you can make the right purchase without spending too much money.
Operating System Customization
While choosing your operating system may not seem like a necessary option worth customizing, many first responders will want the latest operating system available, as it offers the most in protecting your computer's data from unwanted outsiders. When an operating system stops receiving software updates, it is left susceptible to hackers who work hard to infect unsecure computers with malware.
A recent example of this is the WannaCry ransomware attack that infected over 400,000 computers around the world. Most of the computers infected were running Windows 7, an older and outdated Windows operating system. This is why it is important to keep your operating system up to date, as you risk compromising your computer once developers stop offering security support for outdated operating systems.
Anti-Glare Protective Film
While many law enforcement officers may find themselves using their rugged laptops at night, there are certain instances where anti-glare protective film covers can be very helpful. As a first responder, you may be required to document a motor vehicle accident or an incident where an individual requires assistance. If you have found yourself in this situation, you may have experienced just how difficult it is to record notes in daylight. Awkward viewing angles and excessive glare from the sun can make a simple task take much longer than one would expect. If your job requires you to be outdoors during the daytime, you should consider investing in an anti-glare film which can be placed over your rugged laptop's display.
Vehicle Charger
If you find that you use your rugged laptop during the entirety of your working shift, you may notice that your laptop's battery is unable to hold a sufficient charge throughout the day. By adding a custom vehicle charger to your order, your rugged laptop can remain charged at all times when not in use. This customizable option is especially useful for those that find themselves frequently working from their car, and will ensure that your rugged laptop's battery never goes without a charge again.
The customizable options listed above are all available for purchase when using our online store. Though these all are great options for individuals working across a broad range of industries, customers can choose from even more customizable features by visiting any of our rugged laptop product pages. Customers choose OC Rugged for all their rugged laptop needs because of our dedicated customer support we offer to all individuals, as well as our extensive warranties offered on our products. If you are searching for the most rugged laptops built to outlast any situation, look no further than OC Rugged. Contact us today is you have any questions, concerns, or requests for special pricing!