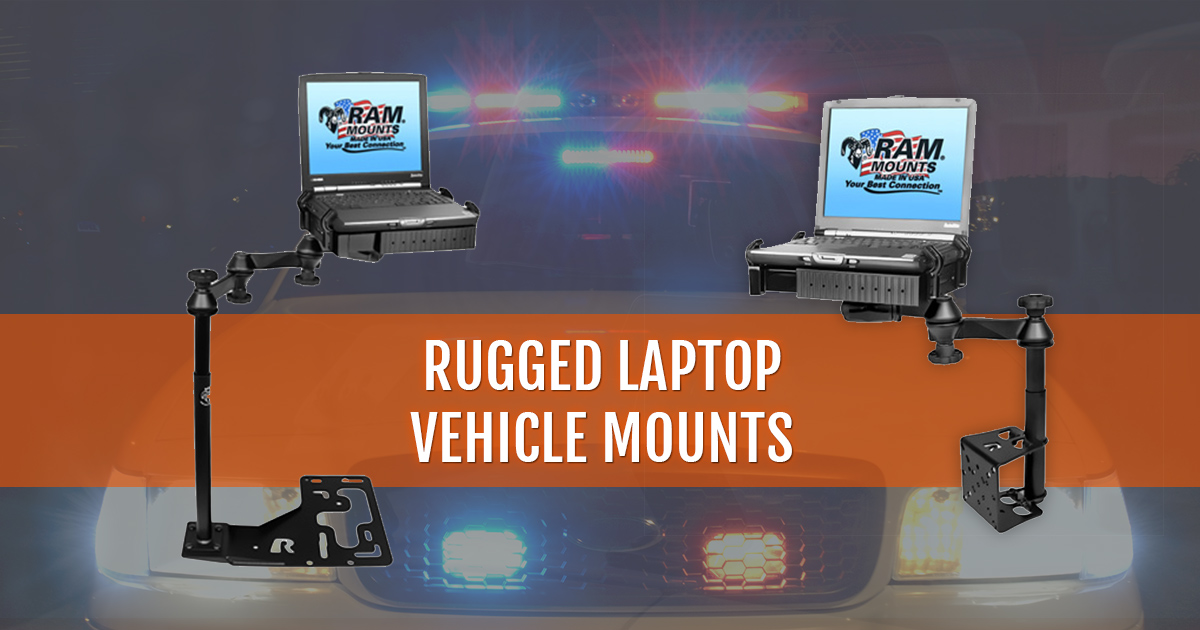 While rugged laptops are exceptional for outdoor use in extreme weather, they are also incredibly useful for those that are constantly on the go. With the ability to be charged directly from your vehicle, rugged electronic devices offer an extreme degree of flexibility not seen in traditional laptops. For this reason, there are a number of vehicle mounts available that can effectively keep your laptop housed safely inside of your work vehicle. Law enforcement professionals, military personnel, and even construction workers will love the versatility that vehicle mounts provide, as they are easy to install and relatively affordable. During this article, we will take a deeper look into the many different types of vehicle mounts available, while discussing some of the features they offer users.
OC Rugged's online store supplies the top rugged laptops, tablets, vehicle mounts, and accessories to first responders and those that are required to frequently work outdoors. We provide free shipping on all orders over $400, and even offer extensive warranty coverage on most of our products. If you are interested in learning more about vehicle mounts and how they can help improve your daily workflow, continue reading more below.
Ford and Buick Vehicle Mounts
Designed to be compatible with a variety of the most popular Ford models currently available, our rugged laptop vehicle mounts are designed to meet the varying needs of working professionals. Customers can choose from a wide range of vehicle mounts such as our supply caddy that effectively stores AC adapters, or our Toughbook mounts that are specifically designed to accommodate Panasonic's line of rugged electronic devices. Whatever Ford vehicle you happen to be driving, OC Rugged's wide range of vehicle mounts have you covered.
Chevy and GM Vehicle Mounts
We know that first responders and law enforcement officers are in need of durable vehicle mounts just as much as our incredibly durable rugged devices. That's why we carry a variety of vehicle mounts to securely fit in Chevy and GM vehicles. Our Chevy Impala police package, for example, is designed to include every feature needed by law enforcement officers in one all-inclusive package. If your police department's fleet of Chevy patrol vehicles range from 2006 to 2013, our high quality vehicle mounts are perfect for your needs.
Dodge Vehicle Mounts
As one of the leading suppliers of rugged electronic devices to first responders around the country, we know that there are a variety of emergency vehicles to cater to. As such, our lineup of Dodge, Chrysler, and Jeep vehicle mounts are made to fit most of the manufactured vehicles in question. We supply a number of Dodge, Chrysler, and Jeep Toughbook vehicle mounts, as well as our universal laptop power supply caddy that can house AC adapters as well as external hard drives and other computer accessories. With our rugged products and accessories, it is now easier than ever to change the way you work from inside your vehicle.
Toyota Accessories
While we do not currently offer Toyota vehicle mounts, due to a lack of Toyota vehicles used by first responders and outdoor professionals, our laptop power supply caddy is the perfect accessory to complete your Toyota's vehicle mount. A unique device used by professionals around the country, our laptop power supply caddy eliminates the mess that comes with power cords and computer cables, and houses them all in one secure container. A quick and easy installation process, OC Rugged's laptop power supply caddy is the perfect accessory to round out your Toyota vehicle mount.
Though these are just a few of our offered accessories on our online store, they are vital to streamlining your workflow while ensuring that your rugged laptop of choice stays completely charged throughout your working day.
If you are interested in learning more about our inventory of rugged electronic devices, visit our online store today! We provide an unmatched level of customer support for our products so that you can spend less time setting up your rugged laptop, and more time experiencing everything that our durable devices have to offer. With free price quotes for competitive bids and special discount pricing for high-volume orders, OC Rugged is ready to work with you to find a price point that meets your needs. Contact our friendly staff of professionals today to learn more!